New Year, New Look!
Our newly designed website has been a hit. If you haven't already, drop by using any device, to see what's new. You'll find lots of helpful information, resources and downloadable materials:

New downloadable information sheets:
And just a reminder—we have very easy-to-use online request forms to:
Updated Methods! OPPs and OCPs now performed by EPA 625.1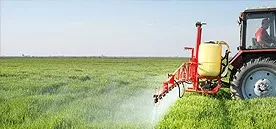 To provide the most current method references for your regulatory samples, we are now performing Organochlorine and Organophosphorus Pesticides by EPA 625.1. There will be no changes in our compound lists, reporting limits (RLs), or container requirements. Because the OCP/PCB analysis requires a neutral-only extraction to overcome decomposition and chromatographic challenges (different from the full base -neutral-acid extraction for the full semi-volatiles list by EPA 625.1) the laboratory will still require separate containers for the extraction and analysis. Please contact your project manager or the client services team if you have any questions.
Here's why we updated our method
Historically, Caltest has performed Organophosphorus Pesticides (OPP's) by EPA 614; and Chlorinated Pesticides (OCP's) and PCB's by EPA 608. In late 2019 we were approved for these analysis by EPA 625.1, per 40CFR 136.3, Table ID.  OPP's by EPA 614 were performed using Mass Spectrometry (MS) instrumentation; and  the OCP's by EPA 608 were performed by Gas Chromatography – Electron Capture Detector (GC-ECD) and Mass spectrometry (MS) instrumentation. Our addition of the MS column eliminated the common occurrence of false positive reporting observed using the typical dual-GC column approach.
Caltest will continue to perform these analyses in a similar manner as we have historically — by maintaining the elimination of false positive detections due to better selectivity of the instrumentation technology — however, since a GC-MS method (EPA 625.1) is now EPA approved for NPDES compliance reporting of the Organophosphorus Pesticides and the Priority Pollutant OCP and PCB compounds, we will be performing/reporting these requests using EPA 625.1. Additionally, CA-ELAP has these compounds already incorporated into FOT 111 as "Semi-volatile Organic Constituents" by EPA 625.1.
Conferences
Where we we were..
In January we attended and exhibited at CWEA's P3S conference in Long Beach—always great to see old and new clients, keep up to date and support CWEA!
Where we're going..
Come visit our booth at these two upcoming conferences
Annual CWEA conference, This is Why, March 31- April 3rd in Reno. Caltest's presentation, Maintaining a Safe Working Environment in an Environmental Production Lab will be Thursday 8:50-9:40 am.
CASQA's annual conference, Envisioning the Future, September 14-16 in San Diego